Alison O'Grady
I am multi-disciplinary visual artist and my main passion is drawing and illustration. Art was always my first choice subject at school and when I graduated from Balbriggan Community College in 1989, I continued my studies in Art College for five more years. Qualifying in Design Communications and Graphic Design Technology, I began my career in the graphic design world. However, I continued to push and explore my creativity and decided to return to education to qualify as a Youth Art Worker in 2007 and then, in 2011, I qualified as an Art Teacher.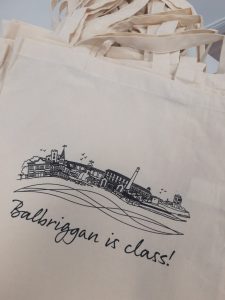 I have enjoyed fantastic experiences of teaching within the educational world from Secondary Schools, Community Education and Further Education College in Ireland to International Middle & High Schools, Government Art Programs, Community Art Studios and International Art Festivals in Bahrain and United Arab Emirates.
Having grown up in Balbriggan, I have a strong connection to the town; its beautiful coastline, heritage, wonderful history and of course, the people of Balbriggan. Much of my work is inspired by Balbriggan, and when I draw, illustrate or paint the buildings, landscapes or scenery that I adored while growing up, it brings me much joy. Each piece is created with love for the town that helped shape me. When 'Our Balbriggan' commissioned me to create a design to celebrate Culture Night with the theme 'Balbriggan is class' inspired by Andrew Coscoran's interview at the Olympics, I was delighted to showcase the town in an illustration.